Ford / Robutt, a robot that simulates the movements of sitting and getting up in the seat of a car
 
Ford engineers have created Robutt, a robot that simulates the movements of the human rear in order to make seats more resistant and longer in their vehicles.
"Robutt" is a word formed by the robot palms and butt (which in English means 'backside').
Ford engineers have used pressure maps to establish a seat pattern, to check their strength and durability. Performing checks of wear and tear according to the number of "seated" and "lifted".
"From the moment we get into a car, the seat creates a sense of comfort and quality," says Svenja Froelich, Durability Engineer at Ford's headquarters in Cologne, Germany.
"Before, we used pneumatic cylinders that moved up and down and now, now with the" Robutt ", we are able to accurately replicate the real behavior of people," says Froelich.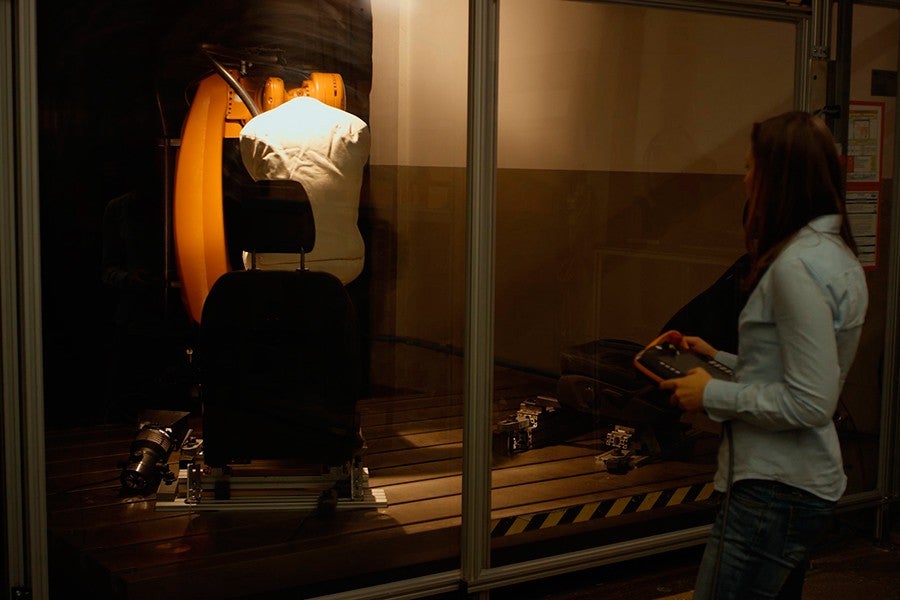 One of the necessities that our vehicles have is to give us a cozy space, with some seats that allow us a state of comfort until we get rid of the vehicle.
And Ford is clear, as demonstrated by Robutt his commitment to the comfort and well-being inside the cabin. Robutt, presents the dimensions of a rear of a person of average size.
It has been designed to initially test the new Ford Fiesta, although according to the company comments this will be transferred to the other Ford models in Europe.
The tests that Robutt has done in the Ford Fiesta is the realization of 25,000 times the action of sitting and getting up (which would be equivalent to 10 years of use of a seat) in just three weeks.
Source video and image: Ford Europe
 Source text: http://social.ford.co.uk/robutt-the-robot-taught-to-mimic-motion-of-human-bottom/